Kent Street Renovation

A Historic Newburyport Home is Reborn

by Michelle Xiarhos Curran

photos by Emily O'Brien


Joyce interviewed several designers before she met with Jenn Sanborn, the owner of Sacris Design in Amesbury.  The women hit it off right away.  Both women will tell you that a good designer-client relationship is crucial when working together on a major design project.

Joyce, who grew up on a farm in Oregon, moved from Boston to Newburyport in late 2013 after being named vice president of marketing at a Salisbury-based pet product company.  "I'm not a fan of commutes," she says.  Being able to walk to restaurants and shops, and being closer to skiing, hiking and the beach were among the many things that attracted her to Newburyport.

In addition to her design preferences, Joyce also wanted to create a welcoming space that would be conducive to entertaining and hosting family members and friends.  In the spring of 2014, when Joyce and Sanborn began to plan the transformation of Joyce's home, they were surprised to hear from neighbors that the house was once the most undesirable property on the street.  Fortunately, the previous owners renovated the home in 2010, updating some of its features – including the kitchen – providing a nicer palette with which to work.

"I like houses that flow, so it feels like a harmonious place," Sanborn says.  "We quickly came up with the idea of this Americana, traditional theme."

Sanborn's design incorporates a range of pretty neutrals and bold pops of blue, red and yellow; a mixture of custom-designed pieces and vintage finds; and a variety of interesting textures and fabrics to create a space that is warm, welcoming, distinct and comfortable all at once.

In the kitchen, a gorgeous custom island crafted by Newburyport's B&G Cabinet is topped with honed calacatta gold marble from Universal Stone in Seabrook, N.H.  The base, painted with Benjamin Moore "indi  go-go" – a deep, unexpected blue – serves as the room's anchor and a place for family and friends to linger over a glass of wine.  The honed marble, which has a softer, more velvety feel than the polished variety, carries over to the countertops, which are met with a lovely shiraz calacatta gold mosaic marble tile backsplash from Portico Fine Tile & Design in Greenland, N.H.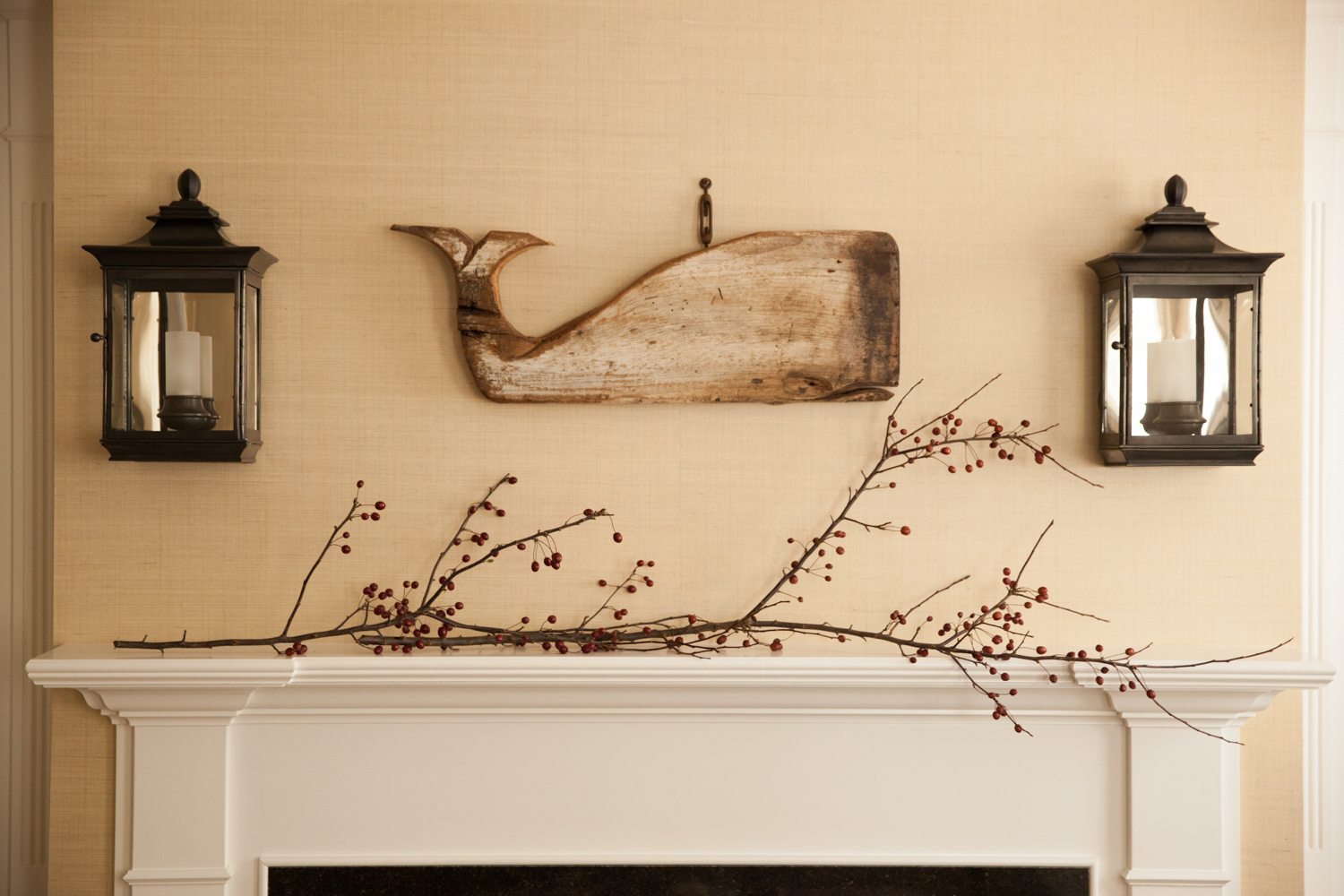 The kitchen is connected to the sunlit dining area. Sanborn worked with Platt Builders of Groton to create a custom banquette for seating.  The spacious trestle base table provides plenty of space for dinner guests.  The banquette and custom painted chairs are upholstered with an elegant blue and white fabric.  French knot sheers give the space a cottagey feel and allow natural sunlight to flood the room.

Among the focal points of the kitchen sitting area are the oversize floor lamps.

"The lighting was one of the first things we thought about," Sanborn says.  "Lighting is one of those elements you have to layer.  It doesn't get interesting for me until you add all those layers."

Another focal point is the collection of blue and white vintage plates hanging on the wall behind the settee.

Just down the hall in the living room, your eyes are drawn to the bold pops of red throughout the room.  The custom ottoman and pillows on the neutral-toned couch are done with a Ralph Lauren print fabric.  A Rockport-inspired painting and an antique tea caddy distribute the red accents evenly. Gray crushed velvet swivel chairs contribute to ample seating and provide a view of the fireplace and built-in shelves.  The lantern lighting is one of many nautical nods to Newburyport, as is the whale carved from barn board – found at Sage Farm Antiques in North Hampton, N.H. – that's hanging over the fireplace.

To add texture to the room, Sanborn used a grasscloth wall covering.  Hung like wallpaper, grasscloth is made of woven natural fibers, adding a touch of elegance to the room and helping to muffle sound.

Heading upstairs, you can't help but be pleasantly surprised by the deep blue Greek key-patterned grasscloth wall covering, purchased through Port Paint n' Paper in Newburyport, and the Greek key wool runner on the stairs.  The larger-than-life lantern hangs from the ceiling and helps to give an otherwise ordinary staircase that "wow" factor.

There are three bedrooms in Joyce's home, two on the second floor and one on the first.  Two of the bedrooms are used for guests.  But the master bedroom is where Sanborn really worked her design magic.

"She kept talking about yellow, so I created a blue and yellow room," says Sanborn, who admits that yellow is not her favorite color to work with. The results, however, are spectacular.  Sanborn transformed what was a dark and neutral room into a space that is bright, inviting and unique.

The first order of business was to remove two double-hung windows that were actually stacked on top of one another, and to reconfigure the ceiling to make it symmetrical.  "Platt Builders did a great job working with me to figure that out," says Sanborn, who also designed the white wood-paneled ceiling and large porthole window, two elements that give the room depth and buoyancy.

Wallpaper is making a comeback, and the bright yellow trellis-patterned paper Sanborn uses here reflects Joyce's unique style.  Joyce, who had always wanted a king-size four-poster bed, was pleased when Sanborn found one that worked in the room.  The dresser and bedside tables, finished in antique white, are Swedish reproduction pieces.

Sanborn's biggest challenge wasn't with the homeowner, but with the house itself, a fickle structure with crooked ceilings and splayed walls.

"I did a lot of compensating to change focus,' Sanborn says.

It worked.  Joyce's home, while not particularly spacious at just over 2,000 square feet, lives very large.
Jennifer Sanborn of Sacris Design in Amesbury transformed what was a dark and neutral room into a space that is bright, inviting and unique.  Custom lanterns, a gorgeous four-poster bed and settee, luxurious drapery and linens, and a new wood ceiling and porthole window give the room a bright, airy feel.

In Joyce's living room, Sanborn used grasscloth on the walls to create texture.  She added a custom ottoman in a red, white and blue floral pattern, then adorned the room in red, white and blue accents, creating an "Americana" look.

To minimize an off-center window in Joyce's sitting room, Sanborn created an eye-catching wall by hanging vintage plates and platters in blue and white, a color scheme that is consistent throughout the first floor. 

A custom-built banquette, trestle base table, and painted dining chairs set against a row of sheer-covered windows overlooking the garden give Joyce an inviting place to entertain guests for brunch or dinner.

The kitchen of Joyce's Kent Street home was renovated by the previous owners, but lacked the "wow" feeling Joyce was looking for.  A custom island, honed marble countertops and a marble mosaic backsplash create the perfect space for Joyce and her friends to linger over refreshments.

hen Jennifer Joyce purchased her 1856 Newburyport colonial, she knew she wanted the home to reflect the city's nautical roots and her love of traditional design. The question was  how to merge the two, while also giving the home a distinct feel and personal touch.

   merrimack|valley home









fall 2015
   merrimack|valley home










fall 2015